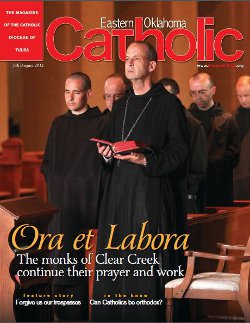 Eastern Oklahoma Catholic, the magazine of the Diocese of Tulsa, recently ran a story (PDF) about the life, prayer, and work of the Benedictine Monks at Our Lady of Clear Creek Abbey. Ten of the 40 brothers in this rapidly growing community are Thomas Aquinas College alumni, including the Abbey's subprior, Rev. Mark Bachmann, O.S.B. ('82).
The Eastern Oklahoma Catholic story reports on the progress of the monks' ambitious, long-term building project, and also offers an insight into the leaven that these cloistered religious can be for the surrounding community:
"The balanced life of prayer and work provides an example to the modern person of how to praise God, respect His creation, to love one's neighbor, and practice the reasonable use of material goods. While our vocation does not allow us the time to live as Benedictine monks, their piety reminds us of our own call to pray in our work and, when our work is finished, to take the time to pray.
"The ministry of Clear Creek is certainly a blessing to the Diocese of Tulsa. In just over a decade, they have had a formative influence on the faithful, providing a window into a world where men are engaged in a constant search after God."
May God continue to bless Our Lady of Clear Creek Abbey!