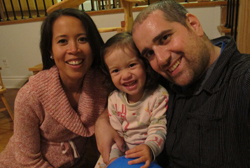 The last time this blog mentioned Mary Rose (Bacani '93) Valenti, it was to report that the veteran TV producer and host was hanging up her microphone to become a fulltime mother. Now, less than two years later, we have an insight into what Mrs. Valenti's new life is like, thanks to a column she has written for Fathers for Good, an initiative sponsored by the Knights of Columbus:
"I had traveled to different parts of the world as a television producer — from North America to Australia, from Europe to the Middle East. In my new job as a stay-at-home mom, the farthest I have to travel is from the kitchen to the bedroom and back. My previous job entailed interviewing high-profile people. Today, I am the one interrogated by a two-and-a-half year old toddler.…
"The heart of what I did professionally and what I loved about my work was telling stories. Ironically, I've never been pressured as much as I am pressured now by my child to come up with stories. Where are the earthworms hiding today? Did the bubble get hurt when it popped? I am doing what I love — learning, teaching, studying, storytelling, and being and being loved for just being."
Be sure to read the whole delightful story, and look out for more. Mrs. Valenti will be writing three more columns for the Fathers for Good site over the course of the month.