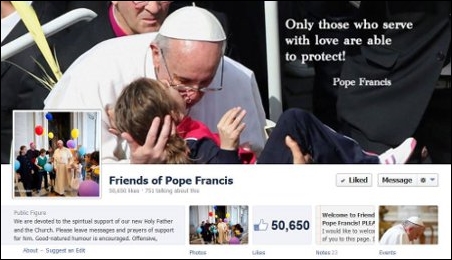 On March 13, the day of His Holiness Pope Francis' election to the Chair of St. Peter, Megan Baird ('02) launched a Facebook page dedicated to the new Holy Father. "Initially, it was a small project that I wanted to do during Lent in memory of my Mom, who died of cancer in 2007," explains Miss Baird, an assistant manager for the Fort Worth Library system. "My mom would have LOVED this new Pope."
Since then, Miss Baird's online tribute has grown into something much, much larger. In eight months the page has received more than 50,000 "likes" — 50,650 as of this writing.
Friends of Pope Francis, which is "devoted to the spiritual support of our new Holy Father and the Church," invites visitors to "leave messages and prayers of support for him." Its feed contains many of the already iconic photos of Pope Francis visiting with the faithful, notable quotations, and prayers left in his behalf.
As its readership has expanded so, too, has Friends of Pope Francis' mission. "The page has broadened in scope to honor our Catholic faith and the wise words of Catholics and previous popes and saints," Miss Baird writes. "For Pope Francis himself said, 'Christ is the center; not the Successor of Peter.' It would be appropriate, then, to put focus on the Faith of the Church as well."