Faith in Action Blog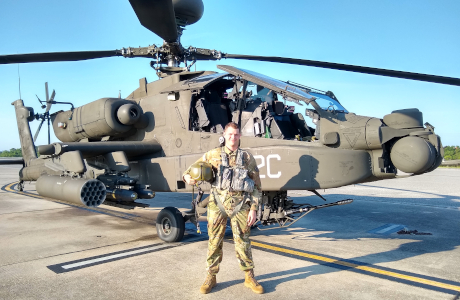 Having recently completed his flight training for the Apache helicopter, U.S. Army Warrant Officer Alex Potts ('14) is now stationed in Katterbach, Germany, where he will spend the next three years training with European forces before his first deployment. "Germany's been great so far!" he writes. "Beautiful farmland and pleasant locals. I'm living in the very center of Europe, so I'm excited to travel to see the different areas where the authors we read at TAC were writing from."
Mr. Potts joined the Army through its Street to Seat program, through which servicemen quickly move through boot camp, warrant officer school, and then flight school. He spent most of the last year on flight training, culminating in the arduous task of mastering the Apache.
"The Apache is the helicopter with all the attack systems, so you not only have to learn how to fly, you have to learn how to fly and operate all the systems on board," Mr. Potts explains. "You have to be able to manipulate all four of your limbs in a coordinated manner, while at the same time looking at your intended spot of landing, doing mental calculations about how far or how close you need to be; you're trying to manage your altitude, your airspeed; you're listening to five different radios at the same time; and you have a helmet-mounted eyepiece over your right eye showing all this information, such as your engine torques, your direction, where the aircraft is heading, the velocity you're going at, what your copilot is looking at. It's like a circus. It's like juggling ten balls at once."
In other words, it's his dream come true. "I love it. I thrive on it, I really do," he says. "It's a fantastic experience, and when you get out of that cockpit at the end of the day, it's a real sense of fulfillment."
Serving his country, Mr. Potts adds, likewise fulfills a longing he has had since his first encounter with the dialogues of Socrates. "Reading about the duties that Socrates placed on man to one's God, to one's family, and to one's country — that really stuck with me," he says. "I thought to myself: I'm an able-bodied man, a healthy young man. I should put in that service to my country as a duty or an obligation, a form of justice for everything that my country gives me. That may sound a little bit cheesy, but it's actually the truth."
Indeed, his philosophical background informs the notion of duty that drives his service. "It helped me to better understand the rights, the freedoms, the values that we're fighting for in America, and I think that makes you a more effective soldier in the end," he argues. Likewise, he has found the intellectual life of the College to be an ideal preparation for the demands of the Armed Forces. "There was a sense of discipline in the intellectual life at Thomas Aquinas College which I think very much carries over into the military, which has discipline permeating throughout the entire structure."
Those years of learning "sparked a love," Mr. Potts continues, which will remain with him for life: "I still read the same books, and I still pray to the same God." A philosopher as well as a pilot, he has recently begun an online graduate degree in philosophy with Holy Apostles College and Seminary — to occupy whatever time he has left when not flying helicopters.
Blog Categories
"No one here tells us what to think. We read the great books, look into them deeply, and then discuss them actively in class, which has forced me to take responsibility for my own education."
– Patrick Nazeck ('19)
Ridgecrest, California
NEWS FROM THE COLLEGE
CALENDAR
"Thomas Aquinas College is uniquely positioned and equipped to let light shine once more in our world, in our society, in our communities, in our families, in our relationships."
– Most Rev. Paul S. Coakley, S.T.L., D.D.
Archbishop of Oklahoma City