Faith in Action Blog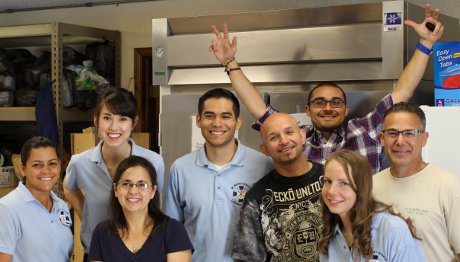 Sara Majkowski ('14), front right, and fellow members of Catholics in Action
Less than one year since her graduation, Sara Majkowski ('14) is living just outside of Phoenix, where she is an educator by day and — in her spare time — she is learning the ropes of film production and finance.
This entrée to the movie business comes as a surprise. Like several other recent graduates, Miss Majkowski went to Phoenix to teach in the city's rapidly expanding consortium of Great Hearts charter academies, classical schools that are, as she puts it, "very academically rigorous, with high standards in terms of behavior and academics." But upon settling into her new city, she found herself a church — St. Anne's in Gilbert — with ties to an emerging lay apostolate, Catholics in Action.
Directed by the pastor of St. Anne's, Rev. Sergio Muñoz Fita, Catholics in Action is an American offshoot of Catholic Action, an international apostolate of the Secular Institute Servi Trinitatis. CIA, as it is known, is "about lay people obtaining sanctity in their lives as lay people," Miss Majkowski explains. "We pray together in adoration. We receive spiritual formation. We reach out to the community, the poor, and young people who need formation, everything Christ directs us to do."
Although a new member, Miss Majkowski is already heavily involved in CIA and its good works. She is helping to organize a trip to the 2016 World Youth Day in Poland, and she is busily raising funds for an upcoming film, Footprints.
The genesis of Footprints came about last summer, when two groups from St. Anne's — one men, one women — made 40-day pilgrimages along Spain's Camino de Santiago de Compostela. A camera crew accompanied the men's group, obtaining footage for a film that aims, Miss Majkowski says, "to document their spiritual experience, undergoing psychological trials and harsh physical demands." There will be a premier screening in June and a general release, they expect, within a year. "I'm working on raising funds to complete production through a Kickstarter campaign, selling merchandise, approaching businesses, and spreading the word," she says.
Meanwhile, Miss Majkowski thrives at Arete Preparatory Academy in Gilbert, where she teaches history and Latin to elementary-school students. "There is so much that goes into teaching — finding ways to make the lessons 'stick,' holding students' attention, being responsible with grading, working with parents, and planning events," she says. "I like it. I like it a lot."
Blog Categories
"Learning from the great books, you can see the questions that history's greatest thinkers have asked and all the ways that they have tried to answer them. You're able to see what's right about what they're saying, but also what's wrong. The more your opinion is challenged, the more you have to refine it in order to get closer to the truth."
– Caleb Skvaril ('19)
Asan, Guam
NEWS FROM THE COLLEGE
CALENDAR
"The students that have had an opportunity to be part of the life of the College have been enriched by their experience in an environment conducive to achievement. Now in all walks of life, graduates of Thomas Aquinas College are contributing, by following a wide variety of pursuits, to the betterment of society."
– Renato Raffaele Cardinal Martino
President, Pontifical Council
for Justice and Peace