Faith in Action Blog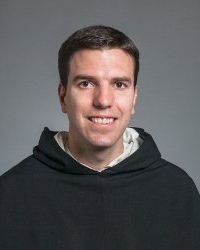 "How do you confront the Culture of Death — a materialistic, secular, godless culture — when you're immersed in it?" asks Rev. Jerome Zeiler, O.P. ('00), parochial vicar of St. Patrick's Church in Columbus, Ohio. "You have to do more than go to Mass on Sunday. You need a Catholic culture that is more powerful for you than the worldly culture that surrounds you."
To help provide young Catholics with that powerful, supportive culture, Fr. Zeiler serves as chaplain for the Columbus Frassati Society, according to a recent story on the Dominican Friars Foundation website. Named for Bl. Pier Giorgio Frassati, a Third Order Dominican who, through his great love, drew many of his peers to Christ, the Society offers regular spiritual, social, and service opportunities for as many as 20-50 young adults.
The experience that Fr. Zeiler seeks to create for the young adults in Columbus is, in key respects, similar to his own experience of living among fellow young Catholics as a student at Thomas Aquinas College. "The friendships I developed, real authentic friendships, were just an incredible support to my whole Catholic life," he observed in a 2013 interview. "That was one of the most joyful aspects — being with likeminded men and women who were filled with God's grace and who wanted to grow in His grace, and who were there to help me grow in His grace. It was just an incredible joy."
May God bless the efforts of Fr. Zeiler and the Columbus Frassati Society!
Blog Categories
"It is amazing to read all the different works from a wide range of disciplines, and see the same truth popping up again and again — whether it's in Euclid, or theology, or natural science. It all comes together to form a full picture."
– Isabella Hsu ('18)
Redondo Beach, California
NEWS FROM THE COLLEGE
CALENDAR
"The Church will flourish through the inspiring example and praiseworthy endeavors of Thomas Aquinas College."
– The Most Rev. Pietro Sambi (†)
Apostolic Nuncio to the United States