Faith in Action Blog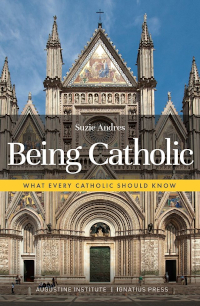 Fresh off of her recent books about Saint Thérèse, prolific alumna author Suzie Andres ('87) has added a new title to her oeuvre: Being Catholic: What Every Catholic Should Know.
Co-published by Ignatius Press and the Augustine Institute, Being Catholic is the latest in a series of What Every Catholic Should Know volumes, edited by Joseph Pearce and Christopher Blum of the Augustine Institute. Whereas previous editions covered God, literature, and salvation, Mrs. Andres' entry looks at some of the essential customs, traditions, and practices of living the Faith. Topics include the Sacraments, the layout of a church, and basic information about the Mass, the Blessed Mother, angels and saints, the hierarchy, and the liturgical calendar.
Suzie Andres ('87)"I wrote this volume after Chris Blum conceived the idea of a more universal answer to the question of what every Catholic should know about living the Faith, especially in light of the concern that in our day many Catholic customs and traditions, and the truths of the Faith they rest upon, are in danger of being forgotten," says Mrs. Andres. "Chris approached me to write the book in the hopes that my conversational writing style and deep love of the Faith (fostered so much by my four years at TAC!) would produce a book that was accessible and fun to read while conveying the great wealth of the treasures of the Church."
Out in time for Christmas, Being Catholic: What Every Catholic Should Know is available at Catholic Market. "I'm hoping the book will be the perfect gift for converts," adds Mrs. Andres, "or a tool used by priests and parishes to help in the formation of those entering or returning to the Church."
Blog Categories
"The Discussion Method gives you a sense of finding the truth for yourself, and thereby owning it, rather than being told what to think."
– Isaac Cross ('19)
Leominster, Massachusetts
NEWS FROM THE COLLEGE
CALENDAR
"Thomas Aquinas College is uniquely positioned and equipped to let light shine once more in our world, in our society, in our communities, in our families, in our relationships."
– Most Rev. Paul S. Coakley, S.T.L., D.D.
Archbishop of Oklahoma City