Faith in Action Blog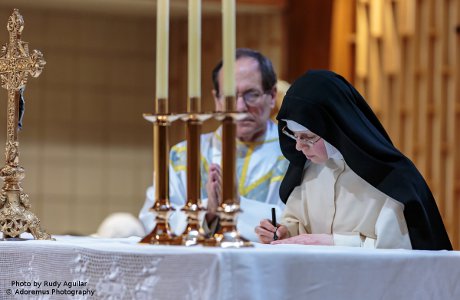 Sr. Mary Thomas, O.Praem. (Alison Bright '09)
The following wonderful news comes via the family of Sr. Mary Thomas, O.Praem. (Alison Bright '09):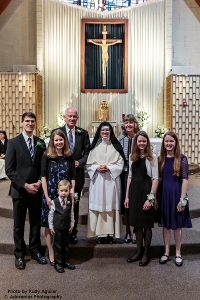 Sr. Mary Thomas, O.Praem. (Alison Bright '09), and familyIt is with great joy that we announce that Sr. Mary Thomas, O.Praem., made her Profession of Solemn Vows (final vows) as a Norbertine Canoness in Tehachapi, California, on the Solemnity of the Presentation of the Lord.
The Very Rev. Thomas Nelson, O.Praem. offered the Mass and gave the homily, in which he spoke of how the three evangelical counsels, which Sr. Mary Thomas professed that day, are symbolized in the three manifestations of Christ at Christmas: poverty at his manifestation to the shepherds, obedience in the coming of the Magi, and chastity in the Presentation in the Temple.
Sr. Mary Thomas, who entered the community on October 7, 2011, is one of three Thomas Aquinas College alumnae at the Bethlehem Priory of St. Joseph, the others being Sr. Mary Oda (Jennifer Tilley '02) and Sr. Mary Andre (Anne Huguelet '11). Since the Holy See's elevation of the community to an independent canonry within the Norbertine Order on January 29, 2011, the monastery has grown substantially, from 20 to over 40 canonesses.
Please keep Sr. Mary Thomas and the Norbertines in your prayers!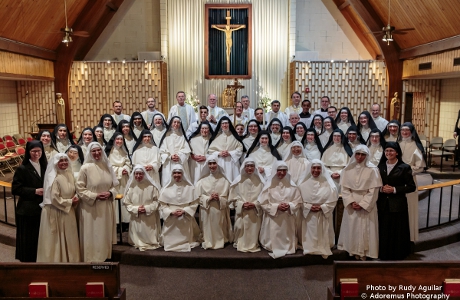 The Norbertine Canonesses of the Bethlehem Priory of St. Joseph
Photos courtesy of Rudy Aguilar, Adoremus Photography
Blog Categories
"When I first came here, since I am not a Catholic, I was nervous, because it's a different culture for me, but people have been so friendly, so charitable. It is such a blessing to live in this community, where people care about you. You make strong friendships that last a lifetime."
– Sanjay Adhikari ('18)
Kathmandu Nepal
NEWS FROM THE COLLEGE
CALENDAR
"I am happy with the mission of Thomas Aquinas College and with the results spread through various countries in the world!"
– Most Rev. Lionginas Virbalas
Metropolitan Archbishop of Kaunas, Lithuania