Faith in Action Blog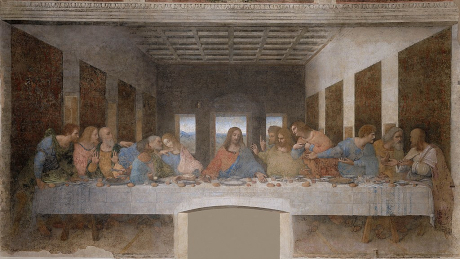 On Spiritual Communion
by Sr. Mary Catherine Blanding, IHM ('76)
Sr. Mary Catherine Blanding, IHM ('76) About a week ago, our Bishop gave directives to our IHM Community (Sisters of the Immaculate Heart of Mary) that we should make spiritual communions instead of partaking of sacramental communions. My heart fell at this deprivation; I, a bride of Christ, could no longer physically receive Our Lord.
My Superior asked me to seek an answer in the Summa of how spiritual communions compare to sacramental communions. St. Thomas Aquinas again brought hope, comforting me in my grief over not receiving Him corporeally and participating in Mass. I then gave a presentation to my Community about this, which also gave my Sisters joy.
Thomas unequivocally teaches in ST, Part Three, Q. 80, A. 1, Sed Contra: "We hold that there are two ways of eating, the one sacramental and the other spiritual."
Moreover, he explained that Consecration of the proper matter makes the Eucharist a sacrament, whereas in Baptism and Confirmation, it is in the receiving of the sacraments. The priest, not the communicant, makes Christ present in the Holy Eucharist.
This point enlightened my Sisters and me. Thomas reminded us of the truth that Jesus Christ is present, body, blood, soul, and divinity in the Blessed Sacrament, whether we receive communion corporeally or not. Grace exudes from our Chapel's tabernacle, where our King resides, as it emanates from your tabernacles in your parish churches. He dwells, gloriously alive in His Risen Body! (CCC, 1374) (ST, Part III, Q. 75, A. 1)
In addition, Thomas compared spiritual communions to the Baptism of Desire. He writes in ad 3 : " … just as some are baptized with the Baptism of desire, before being baptized in the baptism of water, so likewise some eat this sacrament (the Eucharist) spiritually prior to receiving it sacramentally."
In other words, just as we believe in the efficacy of the Baptism of Desire, so we can trust in the real effects from the "Eucharist of Desire."
Aquinas teaches in ad 3 that the receiving of this sacrament can be seen in two ways:
1) "First of all, from the desire of receiving the Sacrament itself." He writes that they "can eat this sacrament spiritually, not sacramentally if they have desired to receive this sacrament since its institution."
2) "Secondly, by a figure: thus the Apostle says (1 Cor 10:2) that the fathers of old were baptized in the cloud and in the sea, and that they did eat … spiritual food, and …drank … spiritual drink."
In thinking about this article, it's important to note that Thomas did write, "sacramental eating is not without avail, because the actual receiving of the sacrament produces more fully the effect of the sacrament than does the desire thereof …"
He then refers to Q. 69, A. 4, ad 2:
"… a man receives the forgiveness of sins before Baptism insofar as he has Baptism of desire … and yet when he actually receives Baptism, he receives a yet greater fullness of grace and virtues."
This is an important point. Once we again can attend Mass and receive sacramental Communion, a faulty understanding — "I can just receive a spiritual communion" — may hinder some from receiving the sacraments. The Church unequivocally teaches that the sacraments are necessary for salvation.
St. Thomas states in the Summa, Part 3, Q. 61, Sed Contra: "Sacraments are necessary for salvation."
Official Magisterium teaching reflects Thomas' teaching; The Catechism of the Catholic Church, n. 1129, repeats the Council of Trent: The Church affirms that for believers the sacraments of the New Covenant are necessary for salvation.
I would like to end with a prayer we have in our IHM Prayer Book, reflecting Thomas's teaching:
My Jesus, I believe that You are in the Blessed Sacrament. I love You above all things, and I long for You in my soul. Since I cannot now receive You sacramentally, come at least spiritually into my heart. As though You have already come, I embrace You and unite myself entirely to You; never permit me to be separated from You.
The spiritual communion begins with an explicit act of Faith, "My Jesus, I believe you are present in the Blessed Sacrament." The Church teaches the sacraments are sacraments of faith" (CCC, 1123).
You and I are clearly not only "accepting the Lord into our hearts," as our non-Catholic Christian brothers do, but we are inviting Jesus Christ, physically present in the Blessed Sacrament, to come spiritually into our hearts.
Yes, all grace stems from the sacraments, and we all long for the day when we can once again participate in the most perfect way; for now, we thank God for the good, but less perfect manner of spiritual communion.
Blog Categories
"I think about the entire world differently since I have come here. I have learned certain truths, whether in the natural sciences or philosophy, that I never would have imagined I could know."
– Kathleen Murphy ('16)
Cheshire, Connecticut
NEWS FROM THE COLLEGE
CALENDAR
"Thomas Aquinas College is a paragon of what Catholic higher education ought to be."
– William Cardinal Baum
Prefect Emeritus
Congregation for Catholic Education