Summer Program Blog
Following Monday's classes many students spent the afternoon recreation period on the College basketball courts, preparing for the night's basketball tournament:
Others, however, chose to escape the ongoing heat wave with a refreshing trip down to the campus ponds:
And others, still, sought the comfort of air-conditioning and headed indoors, with card games in the men's residence hall and painting in the women's. Then came dinner, followed by an informational Admissions meeting in St. Cecilia Hall, where Director Jon Daly took questions from students about the College and its application process. The highlight of the session came when Admissions Counselor Patrick Cross answered questions about the College's efforts to establish a branch campus in New England, contingent upon the approval of the Massachusetts Board of Higher Education. Mr. Cross, who will be the Admissions Office's point man for its New England efforts, showed photos of the Massachusetts property, drawing excited "oohs" and "ahs" from the assembled students, who marveled at its beauty and facilities.
Immediately after the session, prefect Dan Selmeczy took to the podium, where, with the aid of his tablet and St. Cecilia's massive movie screen, he presented a demonstration on demonstrations — that is, a lesson in how students would demonstrate their first Euclidean propositions at Monday morning's class: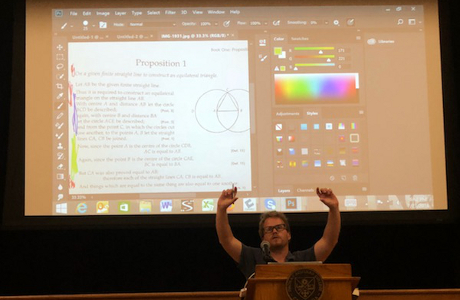 When Dan was finished with the presentation, students headed off for various classrooms around campus, where prefects gave them more personalized preparation on the chalkboards. "There was a mix of confidence, nervousness, and everything in between," says Women's Head Prefect Kathleen Sullivan. "The students were very supportive of one another; there was a lot of camaraderie."
From there followed a Rosary procession, which began at the Chapel and ended at the walkable Stations of the Cross …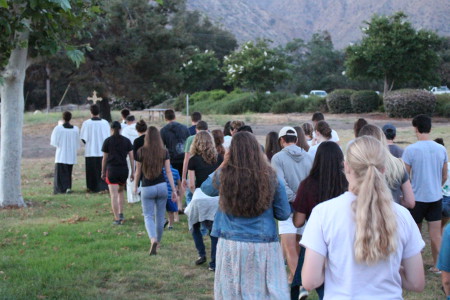 … followed by the Prefect v. Students basketball games, both of which were won by the prefects this year. First up was the women's match …
… and then the men's:
During the games, spectators enjoyed a snack of soft pretzels and mustard. The games ended late, so curfew immediately followed, but back in the residence hall, anxious students were spotted practicing their propositions well into the night!