Summer Program Blog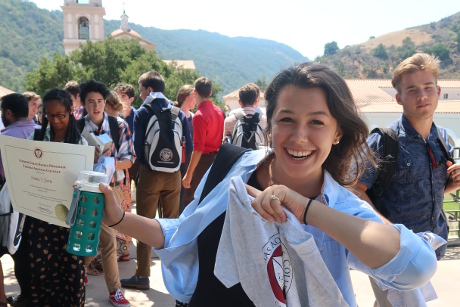 The 2017 High School Summer Program has, alas, come to an end!
Friday night St. Joseph Commons hosted the farewell banquet, at which several of the program's young musicians entertained the crowd with classical fare, and prefects performed some highly amusing skits. They also showed a slideshow, recapping the last two weeks, plus the following video, which Prefect Dan Selmeczy directed for Christian Service 4LIFE, a youth event sponsored by the Archdiocese of Los Angeles, last fall:
Students then gathered in the plaza of St. Gladys Hall, where they danced until nearly midnight.
Before saying goodbye, they penned yearbook-style notes to one another — oftentimes inside their copies of Euclid's Elements! After much hugging and bidding adieu, all turned in to the residence halls and prepared for their journeys back home, with the first van leaving around 4:00 a.m., and the last scheduled to depart just after noon.
From the pre-Socratics to Boethius, from Sophocles to O'Connor; from water polo in the ponds to soccer on the athletic field; praying at the Grotto, at Mass, and in Adoration; going to the Getty, the beach, Santa Barbara, and the Hollywood Bowl — it has been an amazing two weeks. The prefects have marveled, throughout, at the diligence, the kindness, the faith, the passion, and the joy of this group. Thanks be to God!
We hope to see a good many of these students again as members of the Thomas Aquinas College Class of 2022!