Summer Program Blog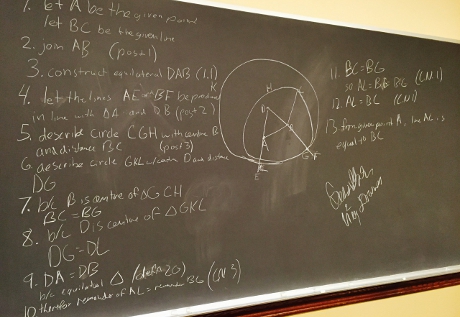 On Monday morning the students were back in the classroom, working out Euclid's definitions, common notions, and postulates in lively discussions. They were coming to an understanding of the meaning of such terms as "line" and "point" in preparation for demonstrating Euclidean propositions on Tuesday.
At the afternoon class, after Mass and lunch, students discussed the first two books of Boethius' Consolation of Philosophy. Themes included what it means to be a man, the true causes of happiness, and the nature of fortune. "This is when students really get a taste for the College's academic program," says one prefect. "It's a pivotal time."
When the class came to an end, students filled the campus coffee shop to capacity for a lecture by College tutor Dr. John Nieto, "On Art and Beauty." Dr. Nieto supplemented his remarks with a PowerPoint slideshow depicting many famous sculptures and paintings, several of which are at the Getty Museum in Los Angeles, which the group will visit this afternoon.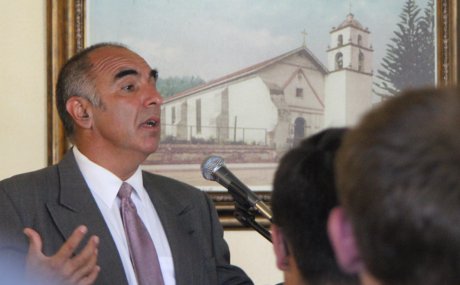 Dr. John Nieto
In his lecture, Dr. Nieto explained St. Thomas Aquinas's definition of beauty, advising students that, when they tour the Getty's exhibits, they should examine every work for beauty's three characteristics — integrity or unity, proportionality, and clarity. The talk was well received, giving the students a better understanding of how to approach various kinds of art.
After dinner the group met up in the coffee shop once more, where Admissions Director Jon Daly led an open forum for students who are interested in applying to Thomas Aquinas College. The Admissions staff answered questions about the College's curriculum, teaching method, financial aid program, alumni, and various other subjects.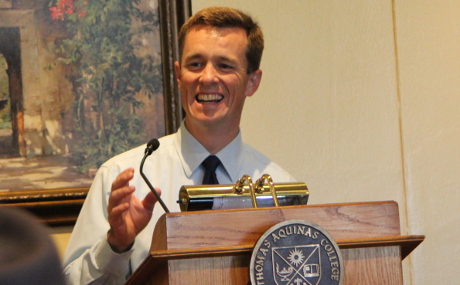 Admissions Director Jon Daly
Students spent the evening study period preparing the Euclidean propositions that they will be called to demonstrate in the next morning's class. Prefects were on hand to help and encourage. Afterward came the nightly Rosary, which, for the first time, students led, rather than prefects.
The final event of the evening was a set of basketball games pitting the prefects against the students. Both the women's and the men's games were full of energy, with the players making amazing shots, blocks, and passes. There was also an intense battle of cheering on the sidelines, with the supporters keeping up the energy and fun. Both games were very close and competitive. In the women's game, the students won 22-21. In the men's match, it was the prefects who emerged triumphant, 26-23.

Fr. Sebastian leads the opening prayer.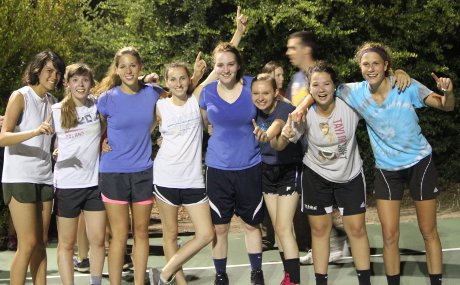 The Winners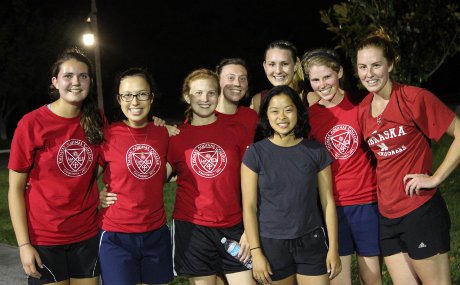 The Women's Prefect Team