Summer Program Blog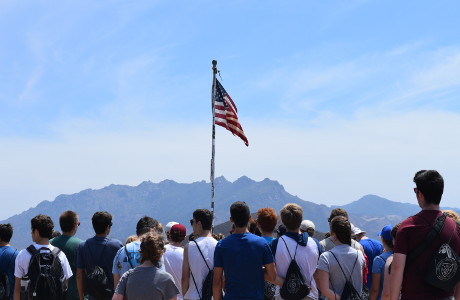 An action-filled Friday night did not deter the students in this year's High School Summer Program from waking up early Saturday morning, boarding a fleet of school buses, and heading down to Malibu to hike the 5.2-mile Chumash Tail. "It's a gorgeous — and very challenging — trail, with views of the Pacific Ocean pretty much the whole time," reports one prefect. "I don't think they'll ever forget it."
The whole crew hiked to the midpoint of the trail, where some decided to sit back and take in the view, and others pressed forward to Mugu Peak. When the latter group reached the top, it was greeted by an American flag, prompting a spontaneous outburst of patriotic singing. Hikers for miles, no doubt, heard the refrains of "God Bless America," "America the Beautiful," and "The Star Spangled Banner" echo throughout the Santa Monica Mountains!
The group then enjoyed a picnic lunch of sandwiches and sports drinks from their lofty perch. "We relaxed and soaked it all in," one prefect reported. "We had views of the Pacific on one side and mountain peaks on the other!"
After hiking their way back to the bottom of the trail, students got in the buses and returned to campus for the afternoon volleyball tournament. Meanwhile, the Summer Program crew — including Admissions Director and Grillmaster Jon Daly — are hard at work preparing for tonight's trip-tip barbeque!
After the evening Rosary, there will be Open-Mic night and a movie. Then, tomorrow, it's the trip to Santa Barbara and the beach!