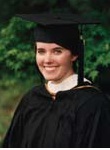 Meghan Duke ('08) is the recently named managing editor of First Things, the Catholic journal of culture and politics founded by the late Rev. Richard John Neuhaus. Editor R.R. Reno writes:
"Graduate of Thomas Aquinas College and veteran of the publication arm of the Intercollegiate Studies Institute, Meghan has been with the magazine for two years, first as a junior fellow and then as an assistant editor...I have the distinct impression that she not only is extraordinarily capable but also enjoys the prospect of giving everyone deadlines."
A number of Miss Duke's articles can be found via an author search of the First Things website (subscription required).