Posted: December 3, 2015
In honor of his onetime mentor, Thomas Aquinas College tutor Dr. David F. Appleby has co-edited a new collection of essays that examine the ways in which ancient and medieval societies adapted to new challenges by drawing from their cultural past.
On December 15 the Pontifical Institute for Medieval Studies is scheduled to release On the Shoulders of Giants: Essays in Honor of Glenn W. Olsen, a collaboration of many of the renowned historian's former students and friends, edited by Dr. Appleby and one of Dr. Olsen's daughters, Dr. Teresa Olsen Pierre. The book's title, Drs. Appleby and Pierre explain in the introduction, "evokes a question that has been at the heart of Glenn Olsen's scholarly work from the beginning of his career, namely how one generation understands itself in relation to the past as it moves into the future."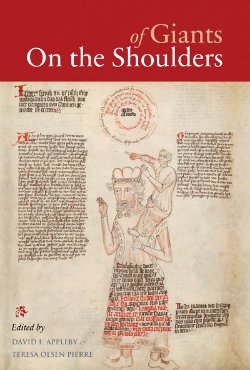 A professor of history at the University of Utah, Dr. Olsen had a profound influence on Dr. Appleby when the latter was an undergraduate in in the 1980s. "Glenn planted in my mind the idea that there might be a radically different way to view the world than with the usual unquestioned assumptions about what's real and what's important, and so I took that on board in his medieval history class," he reflects. "I came to find that many medieval assumptions and ideas made a lot more sense than the chaos that you find in modern thinking. They were unabashedly true to principles not of man's invention, and which make better sense than what we could find on our own."
After graduating from the University of Utah, Dr. Appleby earned his master's degree and a doctorate in medieval history at the University of Virginia, focusing on the medieval Church Fathers. He then taught for 12 years in the history department in the United States Naval Academy, where, having earned tenure, he expected to spend the rest of his academic career. Yet prompted by a conversion to Catholicism — and a yearning to teach beyond the confines of a single discipline — he joined the teaching faculty of Thomas Aquinas College in 2003.
Dr. Appleby's first published book, On the Shoulders of Giants features 10 studies of historical topics — ranging from late antiquity to 19th century Italy — that touch upon cultural matters of tradition, adaptation, renewal, growth, and change. In addition to editing the work, Drs. Appleby and Pierre have also contributed an essay, Upright Posture and Human Dignity According to Bernard of Clairvaux.
On the Shoulders of Giants is available for pre-order via Amazon.com.