Posted: November 8, 2017
Some 20 Thomas Aquinas College students arose early one recent Saturday morning to drive to Our Lady of Sorrows Catholic Church in Santa Barbara, California, where the Most Rev. Robert Barron was recording his latest video study program, "The Mass." 
As the Episcopal Vicar of the Santa Barbara Pastoral Region, His Excellency is responsible for overseeing the portion of the Archdiocese of Los Angeles that includes the College's Santa Paula campus. He is also the founder of the Word on Fire media ministry and the host of its award-winning documentary series, Catholicism.
In his forthcoming project, "The Mass," Bishop Barron explains the holy sacrifice of the Mass, its beauty, and the miracle of how ordinary bread and wine become Christ's Body and Blood. The students who attended Saturday's filming made up part of the live studio audience, which will be featured in the final production.
The event was, for the students, a retreat of sorts. "In his talks, Bishop Barron pointed out to us the deep symbolism in every detail of the Mass, from something as small as putting money in the collection to the Words of Consecration, which was very powerful," reflects Resident Assistant Jeannette Richard ('17). "Too  often, we go to Mass and just go through the motions, without paying attention to the prayers we are praying. But understanding the deep significance of these prayers means we can better participate in the Mass."
In addition to watching the recording, the College's students were interviewed by the video's producers. "They talked to three TAC students," adds Miss Richard, "because they especially wanted to hear from young people." Ever since his appointment in 2015, Bishop Barron has been a faithful friend of the College's students, whom he intends to visit once again next February.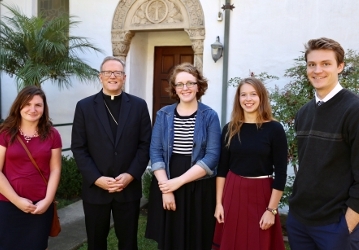 Resident Assistant Jeannette Richard ('17), the Most Rev. Robert Barron, Marya Garneau ('21), Erica Johnson ('21), and Ryan Kielas ('19)
NEWS FROM THE COLLEGE