Posted: December 23, 2020
"I had Marcus Berquist for his last class, for Junior Theology," says Dr. John McCarthy ('11), remembering the late Thomas Aquinas College co-founder and tutor whose influence would help lead him to one day become an educator himself. "He had intellectual charity. He did a lot of good through sharing his education. It was inspiring."
Having just completed his first semester as a tutor at Thomas Aquinas College, Dr. McCarthy is now doing his best to follow in Mr. Berquist's footsteps, passing on his own love of learning to students on the New England campus.
During his undergraduate years, in addition to studying Aquinas' Summa Theologiae with Mr. Berquist, Dr. McCarthy especially enjoyed his time reading Aristotle, particularly the Physics and the De Anima. "I knew after my sophomore year that I really just wanted to study Aristotle for the rest of my life," he laughs. After graduating from the College, he taught for a year at Gregory the Great Academy in Elmhurst, Pennsylvania. He then enrolled in the graduate philosophy program at Boston College and began teaching part-time at Thomas More College of Liberal Arts (TMC) in Nashua, New Hampshire.
While completing his coursework, Dr. McCarthy had the opportunity to study with yet another Berquist: Duane, Mark's younger brother, who had recently retired from the Philosophy Department at Assumption College in Worcester, Massachusetts. Every Tuesday, Dr. McCarthy and a small group of students would come to Dr. Berquist's home for an evening of philosophical leisure, during which they went through Aristotle's Physics, line by line.
After completing his doctorate in philosophy, Dr. McCarthy began teaching full-time at Thomas More. TMC offers an integrated Great Books program, and so he was able to teach a range of classes, including Ancient Greek, Euclid, natural philosophy, astronomy, humanities, metaphysics, and logic. He served happily on the faculty there for the next four years. "It is a very fine institution," he shares candidly. "Pleased as my family and I are to be entering into this new stage, we were sad to leave that one."
Dr. McCarthy and his wife, Aja (Cowhig '11), are delighted to be a part of the close-knit community of Thomas Aquinas College, New England. "The tutors are your neighbors, their kids are the neighborhood kids," he marvels. The McCarthy family — with three sons and a fourth on the way — has taken full advantage of the Connecticut River, just a five-minute drive from campus. "We can fish, we can swim, we can kayak. We've enjoyed our time there immensely."
This year, Dr. McCarthy is leading sections of Freshman Language, Sophomore Mathematics, and Junior Natural Science. He enjoys guiding students through a program that is already familiar to him, while living in the charming and picturesque New England countryside, which has become home for this New Mexico native. Like his Berquist mentors before him, he hopes to instill in young people's hearts a love for the true, the good, and the beautiful.
"I believe in this education," Dr. McCarthy avers. "That is why I came back."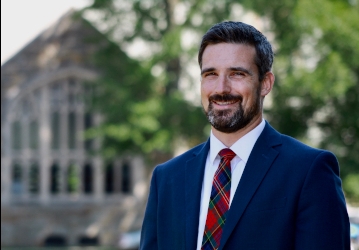 "The things we discover in the classroom, we recognize as true not because someone told us that they are true, but because we have reasoned to them for ourselves."
– Thomas Cavanaugh ('18)
Larkspur, California
"Thomas Aquinas College is a paragon of what Catholic higher education ought to be."
– William Cardinal Baum
Prefect Emeritus
Congregation for Catholic Education
NEWS FROM THE COLLEGE