June 27, 2019
Feast of Our Mother
of Perpetual Help
When Thomas Aquinas College, New England, hosts its first-ever Convocation on August 24, the Most Rev. Mitchell T. Rozanski, Bishop of Springfield, Massachusetts, will consecrate the campus' century-old chapel in honor of Our Mother of Perpetual Help.
"Thanks to the great generosity of an anonymous couple, for several months now workers have been preparing the New England chapel for Catholic worship," says Vice President Paul J. O'Reilly. "Our tradition at the College is to name buildings for saints, and our benefactors requested that we name this one for Our Mother of Perpetual Help — a fitting choice, given how Our Lady has continually aided the College, first in obtaining, and now in launching, this second campus."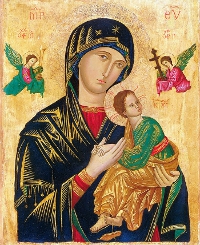 Icon of Our Mother of Perpetual HelpConstructed in 1909 on what was then the campus of the Northfield School for Girls, the chapel was originally named for Russell Sage, an American financier, railroad executive, and member of Congress. His widow, Margaret Olivia Sage, erected the building in honor of her late husband as part of a broader philanthropic effort in support of women's education. 
Renovations of the chapel began earlier this year, when workers installed a tabernacle and sanctuary lamp in anticipation of the first regularly scheduled Mass in March. More recently, an alumnus of the College, George Krestyn ('03), has overseen the reconfiguration of the chapel's pews, so as to make room for a center aisle, which will facilitate processions.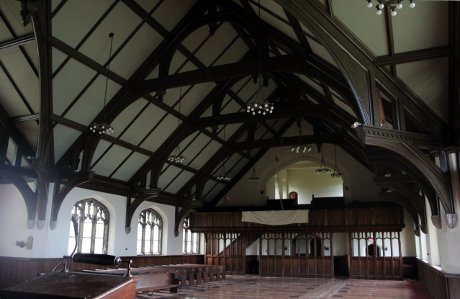 Under construction: the New England chapel, with pews removed for reconfiguration
By summer's end, work crews will also add kneelers; refinish the wood floors; install an altar, altar rail, and confessionals; renovate the sanctuary and sacristies; and replace the chapel's lighting. "Our aim is to retain the elegance and charm of Sage Chapel," says Dr. O'Reilly, "while making it a suitable home for the sacramental life of Thomas Aquinas College, New England."
Regrettably, the renovations have required the removal of the chapel's 81-year-old, two-story organ, given in 1938 by the wife of Wilfred W. Fry, a longtime member and onetime president of the Northfield School's Board of Trustees, and restored in 1997 by the Class of 1941. "The organ, although grand and beautiful, was incompatible with use in the Mass, as it occupied almost the entirety of the sanctuary, including the space where the altar belongs," says Dr. O'Reilly. "For the time being it is in storage, but our hope is to install it in an appropriately dignified spot elsewhere on the campus."
Under construction: the New England chapel sanctuary
Bishop Rozanski will consecrate Our Mother of Perpetual Help Chapel at the Mass of the Holy Spirit, which inaugurates the start of the new academic year, on Convocation Day. "On the very day that Thomas Aquinas College begins its first year, our students will witness the transformation of this historic building into what will be their spiritual home for years to come," says Dr. O'Reilly. "We are profoundly grateful to our benefactors, who have made this transformation possible, and to Bishop Rozanski, who, in consecrating the chapel, will make it complete."
Our Mother of Perpetual Help, pray for us!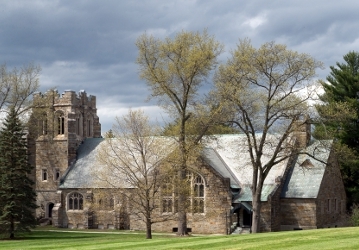 "It's wonderful how, in the integrated curriculum, everything matches up. You'll be reading one thing in language class, and then it will come up again in philosophy, and goes on to affect everything you read from then on. You get a deeper understanding of each discipline by seeing how they connect with the others."
– Thomas Esser ('18)
Chino Hills, California
"Thomas Aquinas College is uniquely positioned and equipped to let light shine once more in our world, in our society, in our communities, in our families, in our relationships."
– Most Rev. Paul S. Coakley, S.T.L., D.D.
Archbishop of Oklahoma City
CALENDAR
NEWS FROM THE COLLEGE