Posted: December 21, 2020
Please pray for the repose of the soul of Dr. Henry J. Zeiter, a longtime member of the Thomas Aquinas College Board of Governors and a member of the Order of St. Albert, who died early on Sunday morning. His daughter Suzie (Andres '87) has written the following lovely reflection about her father's decades-long relationship with Thomas Aquinas College:
I had the great privilege to be with my dad, Dr. Henry Zeiter, when he breathed his last at 4:25 this morning. He died very peacefully, sustained by the sacraments and even a last minute viaticum thanks to the kindness of TAC alum and Stockton diocesan priest, Fr. Matthew O'Donnell ('88).
My mom, Carol, is doing extremely well. She will miss my dad tremendously, but she is grateful for their 60 years of marriage and his holy, peaceful death. And her irrepressible good spirits are intact even amidst tears.
My father's connection with Thomas Aquinas College began with a visit from then Admissions Director Tom Susanka after I had been accepted as a potential student in 1983.
Our initial visit to the campus in Santa Paula yielded great fruits and friendships during an unforgettable Mardi Gras weekend. Alumni who were then students in the men's dorm where my dad stayed still remember their night staying up with him till 3:00 a.m., discussing everything under the sun and being entertained by some of his many amazing stories.
Our visit didn't conclude until my dad pressed a check (the first of many!) into Ron MacArthur's hands. Henry had been so impressed by the intense Catholicity of the students, which reminded him of his own college days at Assumption College in Windsor, Ontario, in the mid-1950s, that a lifelong relationship with the founders, faculty, and student body began.
He and my mom appreciated the excellent liberal arts education, the great books content, and the discussion method of TAC to such a degree that they for many years were delighted to participate in the summer Great Books seminars and bring others with them to become fans, benefactors, and promoters of the college.
My own education, friendships, spiritual formation, and subsequent marriage to classmate (and now tutor) Tony Andres, as well as their own involvement with my sweet alma mater, changed their lives eternally.
Dr. Zeiter is also the father of Camille ('91), and the grandfather of Joseph ('12) and Dominic  Andres ('24) and Zach Zeiter ('21). Please pray for their consolation, as well as that of Mrs. Zeiter and their entire family.  
Eternal rest grant unto him, O Lord
and let perpetual light shine upon him.
May his soul and all the souls of the faithful departed rest in peace.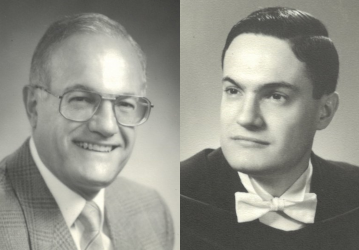 "The Discussion Method gives you a sense of finding the truth for yourself, and thereby owning it, rather than being told what to think."
– Isaac Cross ('19)
Leominster, Massachusetts
"Thomas Aquinas College is uniquely positioned and equipped to let light shine once more in our world, in our society, in our communities, in our families, in our relationships."
– Most Rev. Paul S. Coakley, S.T.L., D.D.
Archbishop of Oklahoma City
NEWS FROM THE COLLEGE