Posted: November 9, 2020
Please pray for the repose of the soul of Alex Trebek, the longtime host of the Jeopardy! game show and a friend of Thomas Aquinas College. Following a brave, public struggle with pancreatic cancer, Mr. Trebek passed away on Sunday.
In 2000 Ed Currivan, a generous benefactor of the College, arranged for Mr. Trebek — his son-in-law — to serve as the emcee at that year's Christmas Appreciation Dinner at the Regent Beverly Wilshire. The Jeopardy! host greeted guests as they arrived to the party, then read aloud O. Henry's "Gift of the Magi" to all in attendance. The next year he served as a member of the College's 30th Anniversary Dinner Honorary Committee.
Please pray also for the repose of Mr. and Mrs. Currivan, who passed away in 2003 and 2005, respectively, as well as for the consolation the Trebek and Currivan families.
Eternal rest grant unto him, O Lord
and let perpetual light shine upon him.
May his soul and all the souls of the faithful departed rest in peace.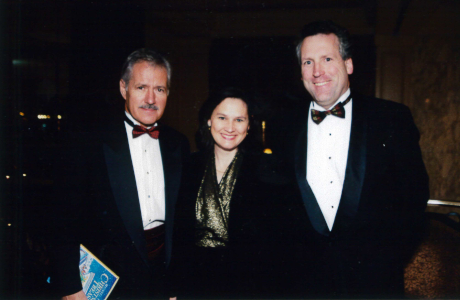 Mr. Trebek at the 2000 Christmas Appreciation Dinner with Anita (Grimm) and College Governor Andrew Zepeda (both '79)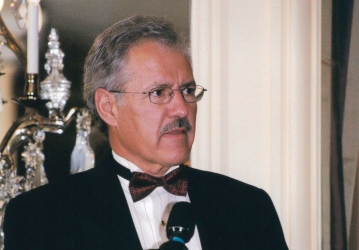 Alex Trebek at Thomas Aquinas College's Christmas Appreciation Dinner in 2000
NEWS FROM THE COLLEGE