Posted: November 17, 2017
On Monday, November 13, Rev. George Rutler, pastor of St. Michael's Church in the "Hell's Kitchen" portion of Manhattan, hosted a reception for Thomas Aquinas College's New York Board of Regents in the church's historic rectory. The evening began with a social hour, after which guests gathered in Fr. Rutler's salon room, where President Michael F. McLean spoke about Thomas Aquinas College, its unique program of Catholic liberal education, the status of ongoing projects on the California campus, and an update on the College's efforts to launch a second campus in New England. The talk concluded with a lively question-and-answer session.
"We are very grateful to Fr. Rutler for hosting us, and to our New York Regents, who organized a wonderful event," says Dr. McLean. "There was great interest in the College's efforts to expand to the East Coast, and good questions about the process to apply for approval from the Commonwealth of Massachusetts. I was gratified by the encouragement we received and the many promises of prayers."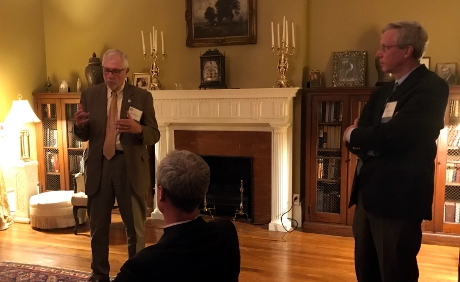 President Michael F. McLean addresses attendees at the New York reception.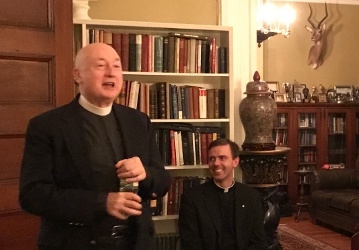 Rev. George Rutler in the St. Michael's rectory salon.
NEWS FROM THE COLLEGE