Faith in Action Blog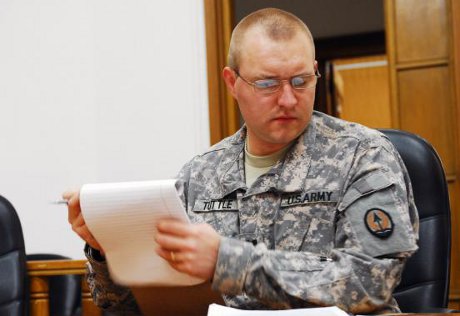 John Tuttle ('98), during his days a member of the Judge Advocate General's Corps. Source: U.S. Army
"I left the Army," writes John Tuttle ('98), "but am still with the federal government."
Having completed his service as a member of the Judge Advocate General's Corps, Mr. Tuttle ('98) is now a law clerk in the Seventh Circuit Court of Appeals for the Honorable Daniel A. Manion, a Reagan appointee whose chambers are located in South Bend, Indiana. Mr. Tuttle follows in the footsteps of several other Thomas Aquinas College graduates whom Judge Manion has hired over the years. Previous clerks for the Seventh Circuit include Kurt Van Sciver ('02), Luke Reilander ('02), and Paul Alarcon ('07).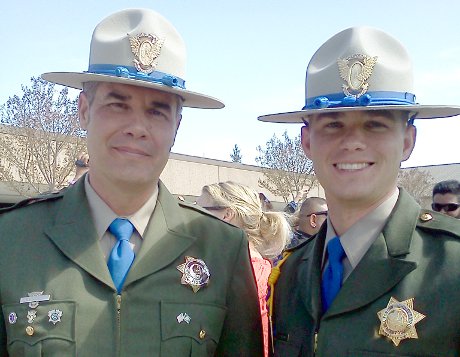 Officers Rex Mohun ('90) and Robert Mohun ('09)

Five years after his graduation from Thomas Aquinas College, Robert Mohun ('09) has graduated once again. At a ceremony in Sacramento this past weekend, Officer Mohun graduated second in his class of 95 cadets at the California Highway Patrol Academy, drawn from a group that began the CHP's rigorous training program with 143 applicants culled from an original pool of 22,000. In receiving his badge, Officer Mohun joins his fellow Thomas Aquinas College graduate and father, Officer Rex Mohun ('90).
Officer Mohun is married to one of his Thomas Aquinas College classmates, Kelly (Docherty '09), who recently gave birth to the couple's second child. As a husband and father, he is keenly aware of the risks inherent in his new job. "The danger aspect has always been in the forefront of my mind," he told Sacramento's CBS 13 (see video, below). Yet he is, by now, accustomed to danger in his professional life. Previously he served as an officer in the United States Marine Corps, during which he time he served his country in Afghanistan.
Following his graduation from the Academy, Officer Mohun will next spend 55 days training with a veteran officer in Los Angeles County.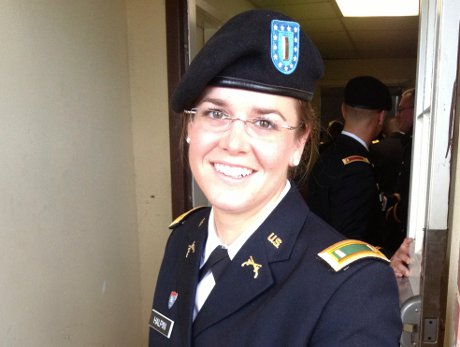 On weekdays, Rose Halpin ('06) serves as the head of technical services at Westchester Public Library in Chesterton, Ind., where she runs the cataloguing department for two branches and a museum. For one weekend a month and two weeks each summer, though, she assumes an entirely different role as an officer in the 470th Movement Control Battalion, U.S. Army Reserve.
In February, 2nd Lt. Halpin will take a four-month leave of absence from her library duties for Military Police training. That program follows three months of training last summer, when she completed Officer Candidate School in Fort Benning, Ga. As a reserve she will mostly fulfill her six-year commitment to the Army stateside unless, of course, she is deployed — a likely possibility.
Does she look forward to serving overseas? "No, we all want world peace," 2nd Lt. Halpin told the Chesterton Tribune. "But that's what I signed up for. I wanted to do something more significant in my life. Nobody's going to live or die by the cataloging decisions I make. I saw this as an opportunity to broaden my horizons and give back. I'll be changing myself as a person and be part of something that's bigger than me, to help others."
Upon graduating from OCS, 2nd Lt. Halpin reflected that the liberal education she received at the College had prepared her well. "I've been taught how to think about things and analyze things. It's been a broadening experience," she said. "When you're leading people, and responsible for people, if you can't look at the big picture and know where you're going, you're going to have a big problem."