Faith in Action Blog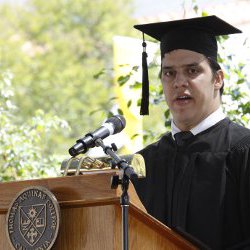 Joshua Brittain ('15)The Arizona Republic last week published a compelling story and video about the Class of 2015 Commencement Speaker, Joshua Brittain ('15), who has succeeded his father, Tom ('96), as the Head Coach of the Tempe Preparatory Academy varsity football team, and who suffers from cerebral palsy. "At 26, he can't ski or roller-blade, and he needs help if he wants to climb the stairs to get to the top of the gym," notes author Scott Bordow. "And there's his gait, awkward and pronounced, the bend of the right knee, the right foot dragging across the gravel."
"Yet to focus on his walk is to miss the point — and miss the man," Mr. Bordow continues. "Cerebral palsy doesn't define him. It never has. He's certain it never will."
Indeed, Mr. Brittain dismisses his mild case of cerebral palsy as a "minor cross" that is, like all crosses, a gift from God. "I'm very thankful that I have it because the things that are the most important in my life, my gift of soul and the very few virtues I have are in large part because of this," he says. "Life isn't about what you can't do," he adds. "It's about getting the most out of what you have."
To that end, he is making the most of his opportunity, at the unusually young age of 26, to coach a major high school football program, as well as in his day job as a history teacher at Chandler Preparatory Academy. He and his wife, Kaitlyn (Carlson '16) are currently expecting their first child.
The Arizona Republic story notes that, when meeting with his students' parents, Mr. Brittain "makes it a point to 'walk strong'" — calling to mind these words from the Commencement Address he delivered some 18 months ago:
So, I exhort the Class of 2015, when it leaves these hallowed halls for the last time, leave with hearts full of love. Then, whatever road Our Lord asks you to walk, walk with courage; walk with a humble heart that longs to serve God and His church; and know that you walk with the illuminating power of love in your heart. For it is love that you have fostered and it is love that stands as a lighthouse for your soul.