Faith in Action Blog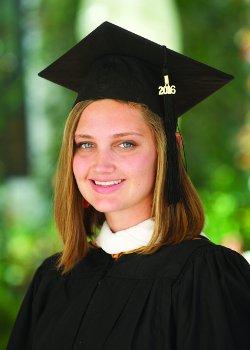 Madeleine Lessard ('16)A member of the College's newest graduating class, Madeleine Lessard ('16) will formally launch her career on August 1, when she starts a position as an analyst for Economic Partners in Denver, Colorado. "The company values intangible assets of corporations," Miss Lessard explains, such as patents, brand identity, and goodwill. As an analyst, she will be "taking in a lot of data and analyzing what's most important, writing reports on it, and also editing reports from other people."
While a student at the College, Miss Lessard worked in the Admissions Office, which proved to be fortuitous. When one of Economics Partners' executives called Admissions Director Jon Daly to ask if he could suggest any candidates for an open position, Mr. Daly recommended Miss Lessard, who then traveled to Denver for a battery of interviews, culminating in her hire.
The position is "not what I thought my Thomas Aquinas College education was preparing me for," Miss Lessard admits. "But then everything they asked me in my interview seemed perfect for a TACer. They asked me to define critical thinking, and they wanted to hear all about my math background. They were also interested in learning about the seminar method because they thought that was similar to the way they work together in their meetings."
Additionally, the company will be sponsoring Miss Lessard as she studies for a Chartered Financial Analysts degree, which typically takes two-to-three years, or longer, to obtain, suggesting a long-term commitment. "I'm hoping that I love it, and they love me, and this is something I can stay in as long as I want to continue working," she says.
Please pray for her success!