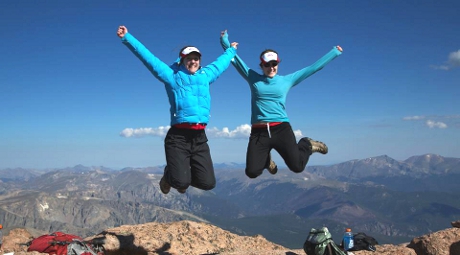 Molly O'Brien ('03, right) adventuring with a friend on a Colorado mountaintop
On Wednesday — the Feast of All Saints — Molly O'Brien ('03) will enter the Abbey of St. Walburga in Virginia Dale, Colorado.
"I had no intention of entering religious life," admits Miss O'Brien, who entered nursing school after graduating from the College more than 14 years ago. For the last 11 years she has worked as a nurse, primarily in the cardiology unit at Children's Hospital Colorado. But "God is full of surprises," she adds, and she discovered her vocation when she "went through the Exercises of St. Ignatius and, around the same time, randomly stopped at the Abbey on a road trip."
By God's grace Miss O'Brien will soon be making the transition from the active life to that of a contemplative Benedictine nun. "I am so excited to be entering!" she writes.
Please keep her in your prayers!