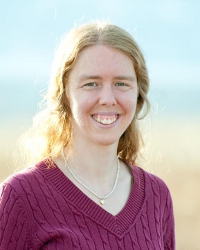 The Augustine Institute recently featured on its Facebook page an employee who is an alumna of both the Institute and Thomas Aquinas College: Constance Graves ('11). "A woman with a heart for catechesis," the post begins, she "has committed herself to this work."
Upon graduating from the College in 2011, Miss Graves earned a master's degree in education at the University of St. Thomas in Texas, after which she moved to Colorado, where she earned a second master's, this time in theology and theological studies at the Augustine Institute. Since completing her studies in 2017 she has stayed on at the Augustine Institute, where she works on curriculum development and media-asset management.
"I was concerned with the problem of effectively handing on the faith to the children when it was not practiced in the home," says Miss Graves says in her profile. "It was around this time that I saw the catechetical films produced by the Augustine Institute Studios. The quality of the videos and the effectiveness of their catechetics impressed me, and I applied to the Augustine Institute Graduate School with the hope of finding answers to the questions I had encountered. I now work full time at the Augustine Institute, and this understanding is being put to use working on curriculum with the academic department."
Miss Graves is not the first alumna to be featured in the Augustine Institute's promotions. In September the school posted a testimonial from first-year students Elizabeth and Theresa Gallagher ('18).