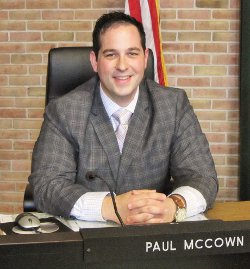 At its meeting on Monday, the City Council of Troy, Michigan, appointed a new member to its ranks — Paul McCown, a graduate of the Thomas Aquinas College Class of 2010.
A native of Troy (population: 83,000) with a longstanding interest in politics, Mr. McCown has served on the city's Zoning Board of Appeals for the last three years. In 2015 he ran for the City Council in a competitive race, but came up short. A year later, however, a sitting member resigned, and the remaining members of the council undertook a comprehensive selection process to fill the vacancy. That process culminated in Mr. McCown's coming before the Council for a public interview on September 19, which can be seen in the video below:
By meeting's end, the Council voted to appoint Mr. McCown, who promptly took his oath and immediately began voting on city matters. His term will continue until next November, at which point he will be up for election.
Yet governance is only a part-time job for Mr. McCown, who, by day, is the CFO and executive vice president of Dataspeed, Inc., an engineering firm that specializes in the design and construction of autonomous cars and mobile robots. The 30-person firm has partnered with a wide range of clients including Ford, General Dynamics, and the U.S. Army Tank Automotive Research, Development and Engineering Center. "Our staff consists entirely of engineers except for a bookkeeper and then me," he laughs. "So I have oversight and responsibility for finance, accounting, HR, marketing, pretty much all departments except for engineering."
After graduating from the College in 2010, Mr. McCown earned a master's degree in economics and American politics at Pepperdine University and then returned to Michigan, where he held several positions in the financial sector before joining Dataspeed. Yet it is not his advanced degree, but his liberal education, he says, that has most prepared him for a career in finance.
"The formulas that I write and the models that I build, all of them are underpinned by logical thinking. You have to understand which pieces of the puzzle need to go where, what comes first, what comes later, if/then statements, all that kind of thing," he explains. "Practicing deductive reasoning, thinking it, breathing it, drinking it the way we do at Thomas Aquinas College — that was really a game-changer for me."
In addition to his work as a public official and a corporate executive, Mr. McCown is, first and foremost, a husband and father, having wed classmate Jacinta (Alarcon '10) in 2012. The couple has two sons, Paul Jr. (3) and James (1½), and due to arrive next February is the family's first daughter, Rosie, named for the McCowns' late classmate Rosie Grimm ('10).