Faith in Action Blog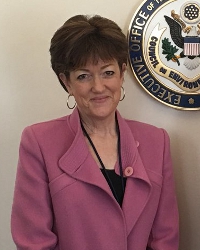 Mary Bridget Neumayr ('86)
Photo credit: @ec_minister/TwitterOn January 2, in the final hours of the 115th Congress, the U.S. Senate easily approved the nomination of Thomas Aquinas College alumna Mary Bridget Neumayr ('86) as the new chairman of the White House Council on Environmental Quality (CEQ). Widely considered the administration's senior environmental official, the CEQ chairman coordinates the country's environmental policy and oversees regulations across various federal agencies. Miss Neumayr has been effectively functioning as the council's chairman since her appointment last year, one year after being named its chief of staff.
Prior to becoming the highest-ranking woman at CEQ, Miss Neumayr spent eight years working for the House Energy and Commerce Committee, where she held several senior roles, including, most recently, deputy chief counsel for energy and environment. Previously she held positions in the Energy and Justice Departments of the George W. Bush Administration. In her spare time, she is a member of the College's Washington, D.C., Board of Regents.
In a letter of recommendation to the Senate's Environment and Public Works Committee, a bipartisan group of eight former general counsels at the Department of Energy and assistant attorneys general at the Department of Justice praised Miss Neumayr's nomination. The group said, "Through her service on Capitol Hill, at the U.S. Department of Energy, the U.S. Department of Justice, and most recently as Chief of Staff at CEQ, she has developed and has exhibited the knowledge and skills to be a highly successful CEQ Chairman." Moreover, the group of four Democrats and four Republicans continued, "She treats all people and all stakeholders with dignity and respect, and her integrity is absolutely above reproach.''
At her confirmation hearings last summer, Rep. Fred Upton, R-Michigan, indirectly referenced Miss Neumayr's parents — Thomas Aquinas College co-founder John W. Neumayr and his wife, Bridget — as well as her alma mater. "The roots of her qualities reflect her loving and vibrant family," he said, "and her faith and thoughtful education."
Blog Categories
"There's a joy for life here you don't get in most places, a sense of purpose, a sense of love and fellowship bound up in our common cause of seeking the truth."
– Isaac Cross ('19)
Leominster, Massachusetts
NEWS FROM THE COLLEGE
CALENDAR
"I am deeply touched by the quality of the intellectual and spiritual formation that you offer. The study of philosophy should lead to a conviction that truth can be known, articulated, and defended. Your college shows that this is possible, and on a high level!"
– Rev. Wojciech Giertych, O.P.
Theologian of the Papal Household