Faith in Action Blog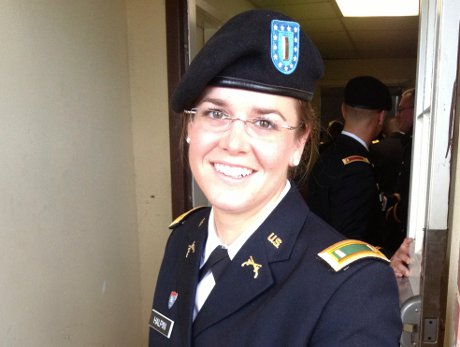 On weekdays, Rose Halpin ('06) serves as the head of technical services at Westchester Public Library in Chesterton, Ind., where she runs the cataloguing department for two branches and a museum. For one weekend a month and two weeks each summer, though, she assumes an entirely different role as an officer in the 470th Movement Control Battalion, U.S. Army Reserve.
In February, 2nd Lt. Halpin will take a four-month leave of absence from her library duties for Military Police training. That program follows three months of training last summer, when she completed Officer Candidate School in Fort Benning, Ga. As a reserve she will mostly fulfill her six-year commitment to the Army stateside unless, of course, she is deployed — a likely possibility.
Does she look forward to serving overseas? "No, we all want world peace," 2nd Lt. Halpin told the Chesterton Tribune. "But that's what I signed up for. I wanted to do something more significant in my life. Nobody's going to live or die by the cataloging decisions I make. I saw this as an opportunity to broaden my horizons and give back. I'll be changing myself as a person and be part of something that's bigger than me, to help others."
Upon graduating from OCS, 2nd Lt. Halpin reflected that the liberal education she received at the College had prepared her well. "I've been taught how to think about things and analyze things. It's been a broadening experience," she said. "When you're leading people, and responsible for people, if you can't look at the big picture and know where you're going, you're going to have a big problem."
Blog Categories
"Here I am surrounded by other people my age who share my interests, who value their education as much as I do, and whom I can have fun with while still learning about big ideas. It is an awesome experience that I have never found anywhere else."
– Patrick Nazeck ('19)
Ridgecrest, California
NEWS FROM THE COLLEGE
"May God bless Thomas Aquinas College for its excellent performance as a Catholic college since its foundation in 1971, a college where parents can send their children and be sure that this college is maintaining the best ideals of our faith and is giving not only information but formation."
– Francis Cardinal Arinze
Prefect Emeritus
Congregation for Divine Worship and the Discipline of the Sacraments