Faith in Action Blog
The late Charles De Koninck, one of the great philosophers of the 20th century, had a profound influence on the establishment of Thomas Aquinas College.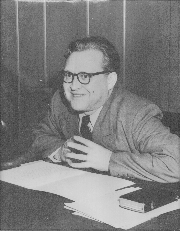 Dr. De Koninck was the teacher of three of the College's founders, Mr. Mark Berquist, Dr. John W. Neumayr, and Dr. Ronald McArthur. In addition, his most famous student, Dr. Ralph McInerny, educated 11 of the College's tutors, including late president Thomas E. Dillon, President Michael F. McLean , and Dean Brian Kelly at the University of Notre Dame.
Suffice it to say, the College owes a great debt to Dr. De Koninck's legacy, a debt that two of its alumni have sought to repay by way of a newly launched website, The Charles De Koninck Project.
"In the 47 years since his death, De Koninck's writings have unfortunately faded from view even as their relevance to contemporary intellectual life has intensified," notes the site's introductory page. The Charles De Koninck Project, it continues, "exists to put the entirety of his writings online and foster discussion about them."
Under the direction Executive Director David J. Quackenbush ('88) and Managing Director Matthew J. Peterson ('01), The Charles De Koninck Project seeks to "collect, translate and make all of his writings freely available online," so that they will be widely available and read, and so that others may "take up the letter and spirit of his writings, spurring discussion in pursuit of truth."
Mr. Quackenbush — who began the project of collecting, transcribing and translating De Koninck's texts nearly two decades ago when he studied under Dr. McInerny at Notre Dame — is a member of the teaching faculty at Thomas Aquinas College. Mr. Peterson is a doctoral candidate in political philosophy and American government at Claremont Graduate University.
"We expect to have the bulk of De Koninck's previously published writings available fairly soon, along with a substantial portion of previously unpublished and newly translated texts," says Mr. Quackenbush. "We hope to press on until all relevant material is available."
The Charles De Koninck Project invites outside contributions. "We welcome essays, lectures, blogs, and such for posting and linking at the site, and hope to host an active discussion of agreement, disagreement, and development of De Koninck's thought," says Mr. Quackenbush. "The project is intended to be a cooperative effort by all those interested."
Blog Categories
"There's a joy for life here you don't get in most places, a sense of purpose, a sense of love and fellowship bound up in our common cause of seeking the truth."
– Isaac Cross ('19)
Leominster, Massachusetts
NEWS FROM THE COLLEGE
CALENDAR
"I am deeply touched by the quality of the intellectual and spiritual formation that you offer. The study of philosophy should lead to a conviction that truth can be known, articulated, and defended. Your college shows that this is possible, and on a high level!"
– Rev. Wojciech Giertych, O.P.
Theologian of the Papal Household