Faith in Action Blog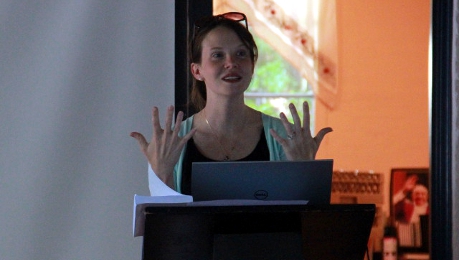 Emily (Barry '11) Sullivan — last seen in these parts leading a women's retreat at her alma mater — recently appeared on the Pints with Aquinas podcast with popular Catholic speaker Matt Fradd. The podcast, timed for the Feast of Corpus Christi, focuses on the four hymns St. Thomas wrote for the feast — Lauda Sion, Pange Lingua Gloriosi, Verbum Supernum, Sacris Solemniis — and includes beautiful recordings of each. (Audio available in the player below.)
In the course of the interview, Mrs. Sullivan also discusses her love for St. Thomas, and the role the College played in nurturing it:
"I went to Thomas Aquinas College out in California, which is kind of an incredible great books curriculum, where you just tread through the greatest works of Western civilization and discuss these ideas in small seminar classes, and there' s a special devotion to St. Thomas. So you're studying Latin so you can read the Summa in the original language, and you're doing a lot of the philosophy of Aristotle. Freshman Year you read through all of Sacred Scripture, so you're really good with the Bible, and then Sophomore Year is a lot of the Church fathers, heavily on St. Augustine, all in preparation for Junior and Senior Years, being able to read St. Thomas Aquinas.
Until last year, Mrs. Sullivan, also known as the "Stay-at-Home Thomist" was the Northeast program manager for Endow, which publishes study guides for women about ecclesial documents and the writings of various saints. She has spoken at the University Notre Dame, Princeton University, various Catholic women's conferences, and the 2015 World Meeting of Families. She frequently speaks on topics surrounding gender complementarity, the dignity of women, and the vocation of marriage and motherhood.
Mrs. Sullivan and her husband, Joe ('09) live just outside of Philadelphia. They are the parents of three young girls, Brigid (4), Mary (2), and Annie (6 mos.)
Blog Categories
"There's a joy for life here you don't get in most places, a sense of purpose, a sense of love and fellowship bound up in our common cause of seeking the truth."
– Isaac Cross ('19)
Leominster, Massachusetts
NEWS FROM THE COLLEGE
CALENDAR
"I am deeply touched by the quality of the intellectual and spiritual formation that you offer. The study of philosophy should lead to a conviction that truth can be known, articulated, and defended. Your college shows that this is possible, and on a high level!"
– Rev. Wojciech Giertych, O.P.
Theologian of the Papal Household