Faith in Action Blog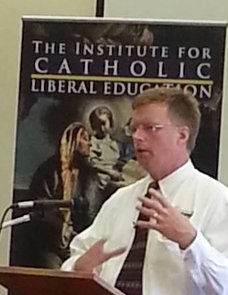 Dr. Andrew Seeley ('87)A feature article in Catholic World Report tells the heartening story of Sacred Heart Academy in Grand Rapids, Michigan, a once-failing parochial school that is now thriving in every sense of the word. Enrollment, test scores, and fundraising are up. Parents have become more actively involved, and the spiritual life of the school is flourishing. The reason? Three years ago, Sacred Heart switched to a classical Catholic liberal arts curriculum — and some Thomas Aquinas College alumni have played an instrumental role in that transition.
"The vision to restore the school to the classical Catholic liberal arts tradition has become a reality," writes author Leslie Fain, in no small part because of "the guidance of the Institute for Catholic Liberal Education, an organization dedicated to the renewal of Catholic education."
The Institute for Catholic Liberal Education (ICLE) exists specifically to aid schools like Sacred Heart and the teachers who work there, offering conferences, development programs, in-service training, and consultation to would-be classical educators. Its executive director is Dr. Andrew Seeley ('87), a graduate who is now a member of the Thomas Aquinas College teaching faculty, and Michael Van Hecke ('86), the headmaster of St. Augustine Academy in Ventura, California, and president of the Catholic Schools Textbook Project.
The turnaround at Sacred Heart Academy is not an isolated incident, according to Dr. Seeley. With ICLE's support, Catholic schools across the country are increasingly returning to the Church's liberal arts tradition, and to great effect. "Academic communities rejoicing in the truth," Catholic World Report quotes him as saying, "that's what I find everywhere I go — the joy the students and teachers have at the schools we work with."
Read the full story.