Faith in Action Blog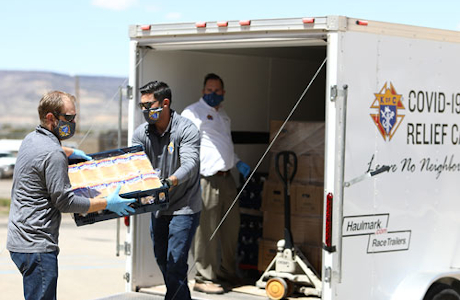 Class of 2003 classmates Jeremy Boucher (left) and Patrick Mason (right) unload a trailer of supplies / Photo: Johnny Jaffe
The Knights of Columbus have published a wonderful story about the work that their members are doing to support vulnerable Native American populations during the COVID-19 pandemic. Notable among those featured are two members of the College's Class of 2003: Jeremy Boucher and Patrick Mason, the Knights' national supreme director.
"Native populations are always hit disproportionately hard by pandemics," Mr. Mason — a member of the Osage Nation and a board member of Life is Sacred, a prolife Native American organization — tells reporter Carl Bunderson. "The 1918 flu wiped out entire villages. The H1N1 death rate in Native American communities was four times the national average."
In March, Mr. Mason, Mr. Boucher, and fellow Knights in their Gallup, New Mexico, council began filling a trailer with crates of donated and purchased food, which they distributed to local reservations. Their efforts soon expanded — all the way to native communities in Hawaii — and by early July the Knights had delivered more than $320,000 of relief in the form of boxes containing sufficient groceries to feed a family for two weeks.
"Pope Francis is always talking about going out to the peripheries," the article quotes Mr. Boucher as observing. The Knights of Columbus' "Leave No Neighbor Behind" program — designed to aid those in need during the pandemic — "is really encouraging us to do that," he continues, "to go outside of our comfort zone, and remember that it's not just our family and friends who are our neighbors."
Adds Mr. Mason: "I have great hope because God always brings great good out of bad situations — and I'm seeing the good that's coming out of this and the love that's growing between neighbors and peoples."
Blog Categories
"Learning from the great books, you can see the questions that history's greatest thinkers have asked and all the ways that they have tried to answer them. You're able to see what's right about what they're saying, but also what's wrong. The more your opinion is challenged, the more you have to refine it in order to get closer to the truth."
– Caleb Skvaril ('19)
Asan, Guam
NEWS FROM THE COLLEGE
CALENDAR
"I thank you so much for what you are doing at Thomas Aquinas College. I hope there will always be a Thomas Aquinas College. Your contributions to the Church and the world are marvelous to behold."
– John Cardinal O'Connor (†)
Archbishop of New York