Faith in Action Blog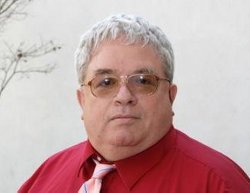 On the morning of Tuesday, April 4, friends, family, and many members of the Thomas Aquinas College community gathered at the Cathedral of Our Lady of the Angels in downtown Los Angeles for the funeral Mass of longtime tutor and alumnus Michael J. Paietta ('83).
Mr. Paietta died late in the evening of March 25, the Feast of the Annunciation, 16 days after entering the hospital with symptoms suggestive of a heart attack. Just prior to his passing, he received the last rites, including absolution and an apostolic blessing, from College chaplain Rev. Hildebrand Garceau, O.Praem ('78).
Fr. Garceau also served as one of the concelebrants at Mr. Paietta's funeral Mass, joined at the altar by fellow chaplain, Rev. Paul Raftery, O.P, and a former head chaplain, Rev. Michael Perea, O.Praem. The principal celebrant was Monsignor Kevin Kostelnik, pastor of Our Lady of the Angels, where Mr. Paietta's mother, Kay, is a parishioner. Following the Mass, Mr. Paietta's remains were interred in the Cathedral's crypt mausoleum, alongside his late father and brother.
Delivering the first eulogy was Daniel Paietta, who recalled his oldest brother's great love of literature and encyclopedic memory. "Michael was the first Thomas Aquinas College graduate to get a perfect score on the GRE — in English, of course," he remarked. "When one of the tutors asked him if he really knew all of the vocabulary words, he said, 'Well, no, I did have to guess on one of them."
Mr. Paietta's former Thomas Aquinas College roommate and colleague on the faculty, Dr. Glen Coughlin, offered a second eulogy. "Michael was no scholar interested merely in the opinions and actions of men for their own sakes. His life was a pursuit of truth itself. His soul turned naturally to the nature of things, to the consideration of how we should live, to the highest and the best things, to the infinite good that Dante speaks of," said Dr. Coughlin. "He was not content to know that someone else knew something or thought something. He wanted to know for himself."

A Lifelong Scholar
From even his earliest days, Michael Paietta had a zeal for obtaining knowledge and a passion for sharing it with those around him. After serving a number of years in the U.S. Navy and briefly attending the University of California, Los Angeles, he enrolled at Thomas Aquinas College as a 25-year-old freshman in 1979. He graduated from the College in 1983 and went on to the University of Notre Dame, where he did his graduate and doctoral work.
In 1989 Mr. Paietta returned Thomas Aquinas College as a member of the teaching faculty. "Mike was noteworthy for his love of literature, music, and baseball," observed his colleague of many years, President Michael McLean. "Not only did he love these things, he sought to understand everything about them. Above all, though, he was devoted to understanding the thought of our patron, St. Thomas, and was particularly sure that discussions with our founders, Ron McArthur, Jack Neumayr, and Mark Berquist, would help him in that pursuit."
Dr. Paul O'Reilly, a longtime fellow tutor and the College's vice president for development, offered a personal reflection saying, "Mike had a tremendous wit and a remarkable memory. We all wanted him on our trivial pursuit team. And those who had him on their team were on the winning side." Reflecting on Mr. Paietta's life, Dean Brian T. Kelly added, "Mike cared deeply about his students and mingled with them frequently in the dining hall. His deep-rooted sense of loyalty was manifest in his abiding love for the Catholic Church, Thomas Aquinas College, and the Los Angeles Dodgers. He will be sorely missed."
This sense of loss, however, was perhaps most poignantly expressed by an anonymous student who shares his late tutor's love of poetry:
If only Life might slow its hurried pace,
That all the grief might pour like winter rain
From out the soul that weeps with hidden face
And feels the greatest depths of human pain.
I ask not end, but merely wish for pause,
As babes at nighttime cry out for the sun,
To have an end to sorrows without cause,
To weep when death begins and life is done.
I should have known him better than I do,
Though humor, knowledge, wisdom did I see,
And this enlightened, now I see the true,
I know he's gone and feel but misery.
We'll miss you, less as tutor than as friend,
We'll love you, Mike Paietta, to the end.
A memorial Mass for Mr. Paietta will be offered at a later date in the College's chapel of Our Lady of the Most Holy Trinity. Details will be provided on the Thomas Aquinas College website when they are available. Please keep Mr. Paietta and his family in your prayers.
May his soul and those of all the faithfully departed, through the mercy of God, rest in peace.

Blog Categories
"When you're discussing the great works you have to assimilate what's being said by the author to your own understanding. Rather than passively receiving information, we're becoming self-learners and independent thinkers, making the great ideas our own."
– Matthew Dugan ('18)
Wayzata, Minnesota
NEWS FROM THE COLLEGE
"Thomas Aquinas College is doing on the undergraduate level exactly what should be done. The College's alumni and alumnae prove that with this kind of education you can go on and do anything."
– Dr. Ralph McInerny (†)
Scholar and Writer