Faith in Action Blog
We have received the following letter from Rev. John Higgins ('90), pastor of the Church of the Assumption in Peekskill, N.Y. Fr. Higgins will be walking 58 miles in support of his parish school later this month. Please support him his efforts!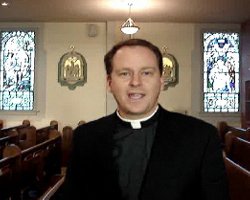 Dear Family and Friends,

Peace!

Everyone who knows me knows that Assumption School in Peekskill is the joy of my heart!

That's why I'm taking my joy to the street and walking to St. Patrick's Cathedral from Peekskill. Not just because Assumption School really, really, needs the financial help, but also in celebration and thanksgiving for the gift of Assumption School!

On the morning of November 10, I'll leave Church of the Assumption for St. Joseph's Seminary in Yonkers, where I will spend the night and set out for St. Patrick's on November 11. My goal is to offer a Mass of Thanksgiving at the Cathedral at 6:30 p.m. on November 11.

My pilgrimage is part of a larger fundraising effort being undertaken by the Assumption School's Advisory Board — $105,000 for 105 Years of Assumption School ("105 for 105").
I would be most grateful if you would sponsor me as I make this prayerful and celebratory journey.

I ask you, if you can, to sponsor me by making a pledge. I will add your contact information to my sponsor sheet with the amount pledged and Assumption School will send you the invoice. Every little bit can help.

Your donation will go a long way to helping families hit hard by the economic downturn continue to send their children to Assumption School.

These are challenging yet grace-filled times and, I know, God can never be outdone in generosity!

Rest assured of my prayers for you every step of my way!

God bless you!
In Christ,

Father John Higgins
PS — The walk is 58 miles.
PPS — If you're in the city, maybe you might join me for the Mass in The Lady Chapel?
PPPS — Maybe more vigorous types might want to join me for the Friday leg of the walk.
PPPPS — As I walk you can follow me on Twitter: @CatholicPeek
Blog Categories
"It is amazing to read all the different works from a wide range of disciplines, and see the same truth popping up again and again — whether it's in Euclid, or theology, or natural science. It all comes together to form a full picture."
– Isabella Hsu ('18)
Redondo Beach, California
NEWS FROM THE COLLEGE
"The Catholic Church may be justly proud of this unique college of Saint Thomas Aquinas on account of the high quality of its professors and its cultural contribution through philosophy and theology."
– Giovanni Cardinal Lajolo
President Emeritus of the Governatorate
Vatican City State