Summer Program Blog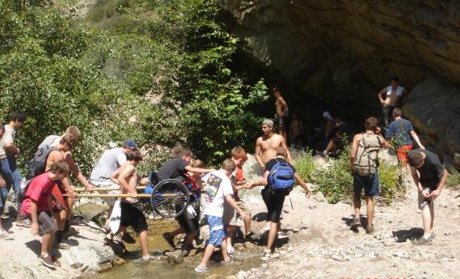 Note: Kathleen Sullivan ('06) served as the head prefect for women for the 2011 High School Summer Program. Below is a follow-up to yesterday's post, which she wrote in the form of a thank-you letter to the Christianform, which generously provided the grant that paid for the prefects' stipends.
For this program especially, one day stands out in my mind: the hike to the Punch Bowls in the Los Padres National Forest just behind the campus. Nick, a student in a wheelchair, wanted to go on the hike despite being unable to walk, and since he had a pole-chair contraption that he used during Boy Scout trips, he joined the group.
At first, it was rough going, with some of the guys struggling to carry the heavy load, and with other guys impatient at the delay caused by the slow progress. But then, about 10 minutes into the hike, a prefect stepped up, called all the guys back together and said, "Okay, men, I'm going to need each and every one of you. The girls are going ahead, but we're all going to stay back and form shifts to carry Nick. We'll switch every two minutes so we don't get tired. We'll pace ourselves and work as a team. We're going to do this together and we're going to bring Nick to the top. Alright, let's make Shift 1..."
I stayed back to take some pictures, and seeing the boys group together in forming their teams to carry Nick was beautiful. My heart simply overflowed with the nobility those young men displayed that day. And they did it!
Every two or three minutes a call went out, "OK, Shift 2, carry! Shift 3, get ready!" They carried Nick over rocky river beds, trudging through the cold water; they carried him through narrow tree-lined paths, successfully avoiding poison oak, and they carried him up a steep sandy ravine, which is somewhat risky even on two feet. It was beautiful. It was inspiring. It made me so proud to be a witness of selfless teamwork. They made it all the way up to the Punch Bowls, and back down again, without a single mishap, and with constant cheers of encouragement and camaraderie.
An amazing brotherhood was formed that day. At the end of the two weeks, as I said goodbye to Nick, I asked him what his favorite part of the program was, and with a big smile emerging, he answered without hesitance, "the Punch Bowls hike."
Yes, Nick, that was my favorite part, too.
So thank you, to those of The Christianform, Inc., for allowing me the honor of working for two weeks in a very special place with a very special group of people. You've given me the opportunity to share and receive much joy and happiness while developing my own abilities to guide and lead these young people to an appreciation of the good achieved by Thomas Aquinas College. It is so rewarding to have been a prefect for these past seven years, and even more rewarding to receive thanks from current students for something I said or did that caused them to think more seriously about attending the College.
So, in return, the thanks go to you. I will be keeping you all in my prayers.
God Bless,
Kathleen Sullivan