Frances O'Connor Hardart grew up in Waterford, N.Y., a small town north of Albany. Her father was a successful lawyer there whose life took a turn when he represented a struggling paper mill in a legal proceeding. He liked the business so much that he purchased it. The paper mill prospered and has remained in the family to this day. Sharing her father's great interest, Mrs. Hardart has been a member of the Board of Directors of Mohawk Fine Papers, Inc. for many years.
Mrs. Hardart earned a bachelor's degree at Manhattanville College of the Sacred Heart and then did graduate studies in art history at the University Firenze, Italy. Returning to New York City, she worked in the family business, designing direct-mail advertising pieces. As a member of the Junior League of New York, she also did volunteer work as a nurses' aide at Lenox Hill Hospital, taught English as a second language in a public school in Chinatown, taught remedial reading at a learning center in Hell's Kitchen, and was involved in the work of the Near East Foundation.
In 1961, she married Dr. Frank Hardart, Jr., a distinguished obstetrician at St. Vincent's Hospital and Medical Center in Manhattan. The couple moved to 7th Avenue and 12th Street to shorten Frank's commute to the delivery room. While living in the West Village, their six children, Frank III, George, Richard, Marie Therese (Tracie), Christopher, and Michael, were born. In 1973, The Hardarts moved their energetic brood to Bronxville and started on phase two of their adventures.
With all of their children enrolled in the Bronxville School, Mrs. Hardart served as chairman of the Elementary School Council for two years and later as a member of the High School Council in that district. She also served two terms (six years) as a member of the Bronxville School Board. As a parishioner of St. Joseph's Church, she was on the Parish Council and led the reorganization of the CCD program, forming the Mother's Advisory Board and expanding the program and activities.
In 1979, both Dr. and Mrs. Hardart were invited to become members of the Equestrian Order of the Holy Sepulchre of Jerusalem. In 1986, Mrs. Hardart became a Dame in the Sovereign Military and Hospitaller Order of St. John of Jerusalem of Rhodes and of Malta (Order of Malta), American Association U.S.A., and at present, serves on its Board of Councilors, holding the position of Hospitaller. She has held numerous positions for the Order over the years, and she has participated in many pilgrimages to Lourdes.
Mrs. Hardart travels on behalf of the Order to meetings with Hospitallers of Associations in Europe and South America, and her efforts with the Malta Federation for Latin America have been a very interesting part of her work, as has her participation on the Board of Holy Family Hospital Foundation, which supports a very special maternity hospital run by the Order of Malta in Bethlehem. In 2000, Mrs. Hardart had the pleasure of visiting that institution.
Dr. Hardart retired from practice in 1990, the same year that he was diagnosed with ALS (Lou Gehrig's disease). The 10 years of his illness were an inspiration, made happy by his attitude of acceptance and his ever-present family and friends. Mrs. Hardart recalls fondly that in 1995 her children — none of whom lived at home — promised that one of them would be with her every night as she cared for their father; for five years, they kept their promise. She considers this a loving miracle.
It was during this time that Dr. and Mrs. Hardart met Dr. Thomas E. Dillon, then-president of Thomas Aquinas College, and began enjoying many wonderful visits with Dr. Dillon, his wife, Terri, and occasionally other members of the College community. Mrs. Hardart had been thinking for a long time about adopting a truly Catholic institution and becoming one of its spiritual alumni. Learning about this select, four-year college in Santa Paula, Calif., and visiting with its enthusiastic president over the next few years convinced her that without a doubt she had found the right place.
When the Hardarts were asked to help in the construction of St. Thérèse of Lisieux Women's Residence, it was as if they were receiving a special affirmation of their conviction: their only daughter had been named for the "Little Flower," whom they considered, with prayerful respect, a lifelong friend of the family. The Hardarts responded to the request with a generous gift for the building project.
As a result of their growing friendship with Dr. and Mrs. Dillon, the Hardarts found a special place in their hearts for Thomas Aquinas College. They believed that Thomas Aquinas College, with its unique curriculum, was providing vital education to young people for the future of the Church and our country. Not long after her husband's death in 2000, Mrs. Hardart was offered and accepted an invitation to become a member of the College's Board of Governors. She faithfully served in that capacity until her retirement in 2014, at which point the Board granted her emeritus status in honor of her many years of exemplary work.
Mrs. Hardart has a deep understanding of the problems of Catholic higher education and an equally deep appreciation for how Thomas Aquinas College provides an antidote to those problems. She is attracted to the College because she believes it to be a place where minds are nourished and students are taught to think and articulate their positions while at the same time remaining loyal to authentic Catholic teaching. She considers this a winning combination and is honored to be part of the Thomas Aquinas College family.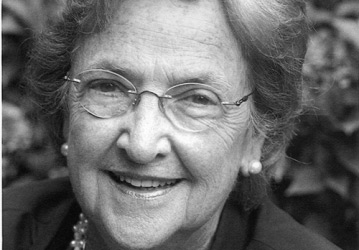 "In our classroom discussions, we are responsible for our own education. We have to get our hands dirty, to figure out the material, to let it become part of us and make us better people. That is real learning."
– Isabella Hsu ('18)
Redondo Beach, California
"Thomas Aquinas College is one of the premiere liberal arts colleges in the country and the pride and joy of the Santa Barbara Pastoral Region."
– Most Rev. Robert E. Barron
Auxiliary Bishop of Los Angeles
CALENDAR
NEWS FROM THE COLLEGE