Faith in Action Blog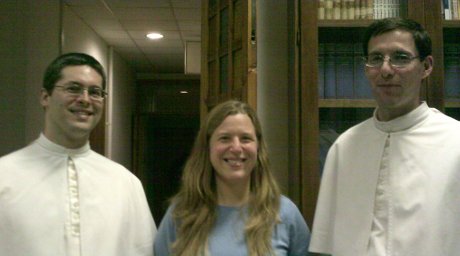 Three alumni of the College who are currently pursuing graduate studies in Rome gathered in the Eternal City last week to celebrate Thanksgiving with some 30 other expats. Pictured above are Frater Maximilian Okapal, O.Praem. ('02), Marie Nuar ('02), and Frater Nathaniel Drogin, O. Praem. ('01). Frater Maximilian studies at the Angelicum; Miss Nuar and Frater Nathaniel are students at the Gregorian.
The friends have extra reason to be grateful this year. On June 23, 2012, Frater Maximilian is scheduled to be ordained to the priesthood as a member of the Norbertine Order at the Mission San Juan Capistrano Basilica in Orange County, Calif. His confrere, Frater Nathaniel, will be ordained to the diaconate at the same Mass.
Deo gratias!